CHARGED WITH A CRIME IN TUSCALOOSA? YOU'LL WANT AN ATTORNEY TO DEFEND YOUR RIGHTS.
If you're in need of a defense lawyer in the Tuscaloosa area, call the Barnett Law Firm today. Regardless of whether you are facing a misdemeanor or felony charge, the legal steps you take can have a crucial impact on your future. Alabama criminal defense attorney Chad Barnett has the knowledge, experience, and drive to fearlessly defend your rights.
READY TO DISCUSS YOUR CASE?
CHAD BARNETT
ATTORNEY AT LAW
When you've been charged with a serious crime, you want an attorney on your side that you can trust will take your case seriously. I pride my work on being a straight shooter with my clients and make a concentrated effort to communicate with them effectively and honestly at every step of the way.
You can rely on me to bring a unique perspective to handling your case. I have a passion for fighting the good fight for my clients, and I'm committed to pursuing the best possible outcome for their case.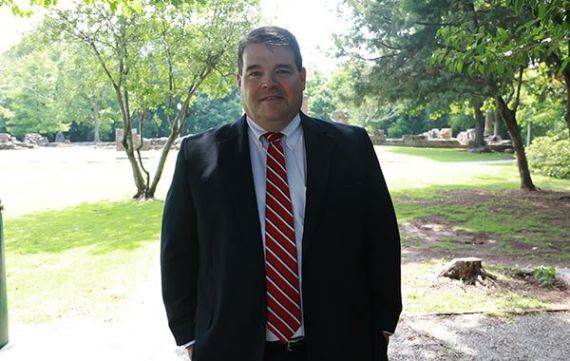 LEGAL COUNSEL YOU CAN COUNT ON
ASSURE - EXPLAIN - EDUCATE
When you choose to work with the Barnett Law Firm, it's important that you feel confident in that decision. I will encourage you to have open communication with me while I strive to explain everything clearly and educate you fully on what to expect from each step along the way.
WHY CHOOSE THE BARNETT LAW FIRM?
There are two sides to every story in a criminal defense case, and the accused deserve to be heard. You should have an attorney on your side that cares about finding the truth and doing everything they can to help you achieve a fair and just resolution. With Chad, that's exactly what you'll get.
KNOWLEDGEABLE ABOUT
THE OTHER SIDE

One of the biggest advantages the Barnett Law Firm can offer your case is Chad's intimate knowledge of the Alabama justice system. With former experience in law enforcement, Chad offers a unique perspective on how to best handle your case
UNINTIMIDATED BY
CHALLENGING CASES

With legal knowledge rooted in both sides of criminal justice, there's no case too complicated for the Barnett Law Firm. Whether your case needs peaceful negotiations or a more fierce defense in court, Chad will not back down from your case if you feel you've been wronged.
LET ME HELP YOU TAKE CONTROL OF YOUR SITUATION
CRIMINAL CHARGES I DEFEND
I defend clients accused of all types of drug charges, including manufacturing, possession, and distribution. If you have been accused of a crime involving an illegal substance, call the Barnett Law Firm today so I can get to work on your defense.
Regardless of whether the DUI charge is your first offense or a repeat, I am prepared to defend you. The Barnett Law Firm will fight to have your charges reduced or possibly eliminated.
Traffic violations span a wide range of possible crimes to be charged with. Each case requires individual attention and a specific approach. Work with an experienced attorney like me for the best possible outcome for your case.
If you are charged with theft, burglary, robbery, or a related crime, it's easy for the prosecution to view the case from the perspective of your accuser. The Barnett Law Firm will fight in your corner so your side can be heard.
Assault and battery charges can be categorized into one of two categories: simple or aggravated. Don't let the name fool you — both charges come with serious penalties. Work with the Barnett Law Firm, and you will have an experienced attorney serious about defending you.
Cases of domestic violence are often filled with high intensity and complex emotions. I defend my clients with compassion no matter how they ended up facing such a serious charge.
Being falsely accused of a sex crime can completely derail one's life. I will fight fiercely to defend my clients and clear their name of involvement in a sexual offense.
Being charged with a crime as serious as murder requires the attention of a seasoned and dedicated attorney. Turn to the Barnett Law Firm and allow my unique insight into both sides of the criminal justice system to work for you.
PROUDLY SERVING TUSCALOOSA AND THE SURROUNDING COUNTIES
If you've been charged with a crime, don't wait to seek legal counsel to discuss the details of your case. Work with an experienced attorney who wants to help you take control of your situation and fight to protect your future. The Barnett Law Firm office is based in Tuscaloosa, but also serves the legal communities of Greensboro, Fayette, Eutaw, Pickensville, Jasper, and other surrounding cities in West Alabama.